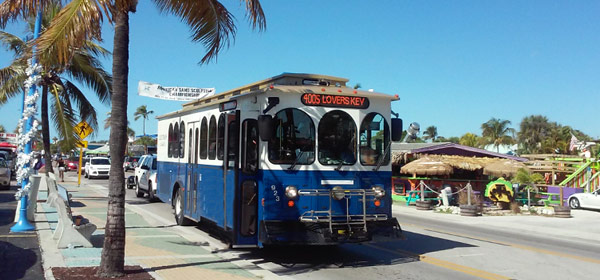 If you have ever visited Fort Myers Beach, you are sure to have seen the Fort Myers Beach Trolley. This trolley is an easy, fun, and inexpensive way to get around on Fort Myers Beach, FL. Below is all of the information you need to travel on the Fort Myers Beach Trolley.
Cost:
Adult Fare = $ .75
Discount Fare = $ .35 (available with Medicare card, or as Disabled Citizen, Senior Citizen (65 or older) or Student with a valid LeeTran ID)
Pre-School Children (under 42 inches) = FREE

Trolley Passes: Sold on board the trolleys.
Trolley All-Day Pass = $2.00

Trolley 3-Day Pass = $4.00
Trolley Serves the Following Areas:
Summerlin Square

Bowditch Park
Times Square
First St & Old San Carlos
Santini Plaza
Lovers Key State Park
Trolley Transit Tips:
Be at bus stop 5 minutes before scheduled time.

Have exact fare. Drivers cannot make change.

Check the destination sign above the windshield to ensure you are boarding the correct route.
Cell phone conversations must not disturb other passengers; speaker phones prohibited.
Out of courtesy to fellow passengers, smoking, drinking, eating, gambling, littering, and music without headphones are not allowed.
No service provided on the following days:  Labor Day  Thanksgiving Day  Christmas
For more information, including the schedule on the Fort Myers Beach Trolley  Click Here
Source: Lee County Government of Southwest Florida:  rideleetran.com