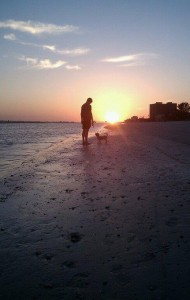 Wondering if you can bring your dog on your next visit to Fort Myers Beach? The answer is YES! Dogs are now allowed on Fort Myers Beach as long as you abide by these rules:
Dogs must be on a leash. Your dog is welcome on the beach, but they must remain on a leash. The leash requirements are that the lead be no longer that 6 feet in length.
All dogs must be properly licensed. It may be a good idea to bring your dog's licensing papers and keep them in your car, in case you need them for any reason.
You must keep your dog from bothering others on the beach. If you are passing a person or another dog, you must bring the dog next to you as to not disturb or make any contact with the people passing by.
Clean up after your dog. It is your responsibility to make sure that you clean up after your dog. There are disposable bags and trash cans available at many of the beach access points to help you in making sure you pick up after your pooch.
Violators of any of these rules could receive a fine.
Following these rules helps to keep Fort Myers Beach beautiful, and allows us to continuing bringing our best canine friends along for a day at the beach!