UPDATE – 2012 VERSION OF THIS POST HERE => Fourth of July 2012 Fort Myers Beach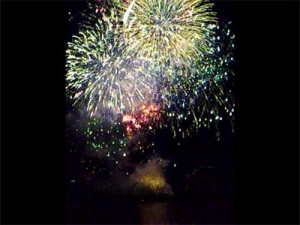 Fourth of July on Fort Myers Beach
This year on July 4th, 2011 at approximately 9:15pm, Fort Myers Beach's sky will light up and provide a spectacular show for everyone on Fort Myers Beach. Our island is famous in Southwest Florida for providing a fireworks show that puts other towns to shame! Year after year, people have been flooding to the beach to see this enormous display of lights and sound. This year, will be no different.
Firework Information:
Where: Fireworks will be lit from the edge of the Fort Myers Beach Pier (1000 Estero Blvd, Fort Myers Beach, FL 33931)
When: July 4th, 2011 at approximately 9:15pm
Planning on spending the whole day of 4th of July on the beach? We think that is a great idea, in fact, there is nothing we think that could be better. So here are a few suggestions to make your Fourth of July perfect this year:
Spend the day on the water. Don't have a boat? No problem. You can rent one from Snook Bight Marina. Whether you want to spend the day fishing and laying out on the water, or driving out to lunch somewhere on the island, a day on the water is sure to be a Fourth of July well spent.
Spend a day on the beach. Fort Myers Beach has beautiful beaches that offer shelling, sun, swimming, and a great time. Bring a lunch with you, or stop off at one of the great restaurants on Fort Myers Beach. The beach is a great way to enjoy your day with friends and family.
No matter how you spend your Fourth of July on Fort Myers Beach, we are certain that you will not be disappointed. Year after year, Fort Myers Beach is the number one place to enjoy Fourth of July in Southwest Florida.