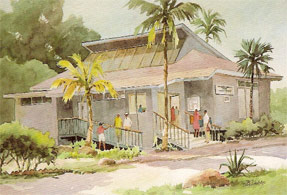 On Saturday, March 19, the last member show of this season will open at the Fort Myers Beach Art Association gallery on Donora Street. This open show allows all members to hang their artwork or display their sculpture. Photography is included in this display which will be judged by members as they select their favorite at the Annual Potluck Meeting on April 7.
Sponsors will be invited to this picnic style dinner as a thank you for their support throughout the season and as a way of celebrating the 60th birthday of the art association. The Fort Myers Beach Art Association was chartered in 1951 by a small group of local women. Together they worked and built the art association from a casual group meeting and painting in a chickee hut to the beautiful building and thriving association it is today. With monthly shows, sales, workshops, classes and demonstrations the vision of the artists has come full circle.
Century 21 TriPower at 2001 Estero Blvd will be hosting another "Art on the Boulevard" sale of works by members of the art association on April 3 from noon to4 p.m. Refreshments will be provided and beautiful artwork will be on display and for purchase.
The Student Scholarship Show sponsored in part by the Town of Fort Myers Beach will hang in the Fort Myers Beach Art Association gallery from April 6-20 and be on display during regular gallery hours. At the reception on April 17, from 3-5 p.m., the student scholarships will be awarded to seniors going on to study art at a university or college. Each year the art association works hard to garner the funds to provide these awards and were pleased by the outcome of the last sale sponsored by Santini Marini Plaza and supported by residents and visitiors. The art association and the students thank all who contributed to this effort, especially the merchants of Sanitini Plaza, Skye Restaurant, and Al Durrett, Bonnie Roberts and Angela Davis.
Watch for announcements about the November 2011 Paint the Beach…a plein air painting festival in the Town of Fort Myers Beach. Information will be on our website at www.fortmyersbeachart.com soon.
Regular gallery hours for the working gallery of Fort Myers Beach Art Association are 10 a.m. to 3 p.m. Monday through Saturday and noon to 3 on Sunday until April 21. For more information call the gallery at 463-3909 or see our website at www.fortmyersbeachart.com.
The Fort Myers Beach Art Association is located on the corner of Donora and Shellmound (east at the blinking light on Estero and Donora.)
source: FortMyersBeachTalk.com