Looking to try something new on Fort Myers Beach?  Paddle Boarding is a great option to get out on the water and enjoy all that the waters of Fort Myers Beach have to offer.
Paddle boarding on Fort Myers Beach offers an excellent opportunity to  view the wildlife and beautiful views around the area.  With the calmer waters of the back bay and the relatively calm waters of the Gulf, it is the perfect environment for beginners.
So, what exactly is paddle boarding?
Paddle Boarding uses a larger modified version of a surf board that makes it easy to stand on without having perfect balance.  You also have a paddle that allows you to propel yourself through the water.
Here are a few tips that will help you to keep your balance on the paddle board: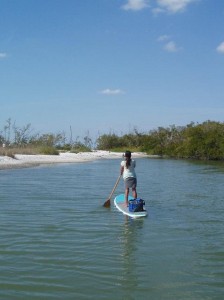 Make sure to keep your feet parallel and about hip-width part.  Center yourself on the board making sure you stay between the rails (board edges).  Do not stand on the rails at all.
Keep toes pointed forward, knees bent and your back straight.
Find your balance with your hips instead of your head.
Keep your upper half steady and upright.  Do all of your balance shifting with your hips.
Don't stare at your feet and the water below you.  Look towards the horizon to keep your posture upright.
The more momentum you have moving forward, the steadier you will become.
Paddle Boarding on Fort Myers Beach is a very unique experience.
Wondering how you can find a Paddle Board Tour on Fort Myers Beach?
Good Time Charters, located on Fort Myers Beach offers:
 Fort Myers Beach Stand Up Paddleboarding Tours eco-tour/shelling:
Shelling and eco tour– this easy two hour tour includes a ~30 minute paddle out through a mangrove forest to a beautiful barrier island for an hour of swimming, shelling and enjoying a secluded beach only accessible by boat, and then a ~30 minute paddle back. Great for beginners, and those wanting better shelling opportunity. up to 6 on a tour. Rentals are also available.  Please contact Good Time Charters at 239-218-8014 for more information.
Tags:
fort myers beach
,
Good Time Charters
,
Paddleboarding Fort Myers Beach