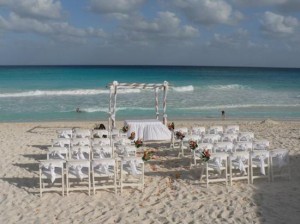 Fort Myers Beach is a beautiful place to host your wedding.  With the lovely sand and beautiful sunsets, our beach is sure to provide a wedding venue to remember.  Here are a few things you need to know about having a wedding on Fort Myers Beach:
Weddings on Fort Myers Beach are allowed on public park property as long as the rules and regulations of the particular park are followed.
Reservations for areas of the parks such as picnic areas, pavilions, and shelters are not permitted.  They are available on a first come basis.
There are no permits required for events at Lee County Beach Parks.  However, if you plan to host a wedding at one of these locations, you should contact the park supervisor to inform them of your event through a Beach Parks User Group Information Sheet.  This will allow them to be aware of your date, time and plans of the wedding.  Standard fees for parking will apply to each vehicle in your group.
There are group size limitations that exist for each Beach Park, for more information about these limitations contact the particular site supervisor for full information.
Lee County Beach Parks are typically open from dawn until dusk every day.  However some parks may differ from this.  If you have an issue with any hour of operation, you may contact the site supervisor to get complete details about times.
Parking is available at each park, however some areas are more limited than others.  Also parking is permitted on a first come, first serve basis and there is a fee required.  Hourly parking ranges from $1 to $2 per hour for each vehicle depending on the park.  There is a trolley that runs on the beach as well to help with parking in further areas.
A Florida marriage license is needed  to get married during a Fort Myers Beach wedding.   For information about receiving a Florida marriage license, go to www.leeclerk.org.

Here are some things you need to know about decorating for your big day:
Chairs and a tent may be set up but your tent may only be a maximum of 10′ by 10′.
Decorations may be used, but must be cleaned up completely before leaving the park.
No decorations may be used that could be harmful to our beaches or the coastal environment.
Rose petals and rice may not be thrown during the wedding as it is foreign to our ecosystem and will cause harm to the wildlife due to the fact it cannot be completely cleaned up when you leave the park.
Tiki torches and candles of any sort are not allowed in the parks.
Food and drinks are allowed, however, no alcohol of any kind is permitted on the beach.  Also no glass can be used on the beach.  Speak with your site supervisor for more information on what is allowed and how to get it there.
Music is allowed on the beach if it is though a small single speaker or from an instrument that is not electric.  Any music that is too loud or a distraction to others visiting the parks is not permitted.  Speak with your site supervisor for more clarification on this matter if you feel your music may not meet the rules.
Weddings on Fort Myers Beach are beautiful.  We encourage you to come visit some of our parks and see how your dream wedding can be orchestrated on Fort Myers Beach.
For more information for your Fort Myers Beach wedding about all of the public parks on Fort Myers Beach and their wedding policies, visit LeeParks.org.