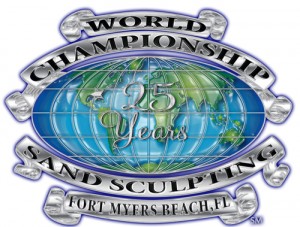 For 10 days master sand sculptors will hit Fort Myers Beach for the 25th Annual World Championship of Sand Sculpting. Literally a world-class event, the championships have never been held in Florida before.
A World Championship winner twelve times over and holder of seven Guinness Book of World Records, Charlie Beaulieu is the event director with Bill Knight of SandLubbers acting as the Co-Director. Jason Camp of Big C Events are hosting the event at the Holiday Inn on the south end of the beach.
This year, tourists and residents alike will have the rare opportunity to see a collection of the world's very best sand sculptors create amazing sand sculptures over the course of 4 days. Participating sculptors had to qualify and be invited to attend this prestigious event and represent fifteen nations from around the world. The judges are also an international mix of experts.
"Having the World Championship of Sand Sculpting on Fort Myers Beach is monumental and we're very excited about it," commented Fort Myers Beach Mayor Larry Kiker. "It proves the quality of our beaches and is a wonderful family-friendly event that our town is proud to host."
The sculptors will build their entries and compete from the 17th until the 20th. After that, winners will be announced. From the 21st until the 27th remaining sculptors will be on-site to create additional exhibition art, participate in Quick Sand competitions, answer questions about their masterpieces and interact with the attendees
Guests are welcome to attend daily or at anytime from the 17th until the 27th. There will be many interactive activities for guests to partake in including:
· Watching world-renowned sand sculptor John Gowdy create a painting on a spinning canvas to music known as "Flying Colors"
· Kids activities area with bounce houses, water slides and more
· Chain Saw Art Demonstrations
· Sand Sculpting Demonstrations where attendees will learn how the Masters create their works of art
· Interactive Photo Opp Sculptures – Holiday themed, attendees can step inside and have their photo taken for use holiday cards, etc.
· Amateur Sand Sculpting Contest, all ages welcome
· Live Music (Artists to be Announced Soon)
They'll also compete in "Quick Sand" speed sculpting competitions to create works-of-art from a pile of sand in just 10 minutes! It's very exciting to watch and even more exciting to participate in. It is simultaneously irreverent and serious, something everyone can enjoy.
Tickets are just $6.00 for adults, $5 for children 5 to 17 years old and those 4 and under are free. Guests are encouraged to purchase discounted tickets in advance at any Pinchers Crab Shack location for just $5 or at the Holiday Inn. For more information, please visit http://www.worldchampionshipofsandsculpting.com.
LOCATION & TRANSPORTATION
The World Championships of Sand Sculpting will be at the Holiday Inn located at 6890 Estero Boulevard on Fort Myers beach. Attendees are encouraged to arrive from the south in order to avoid traffic congestion. Event directors have coordinated a revolving bus system to transport attendees from the Lover's Key parking area to the site. Parking is also available in the Publix shopping center at Bonita Beach Road and U.S. 41 where the Lee County beach "Trollee" will pick up attendees.