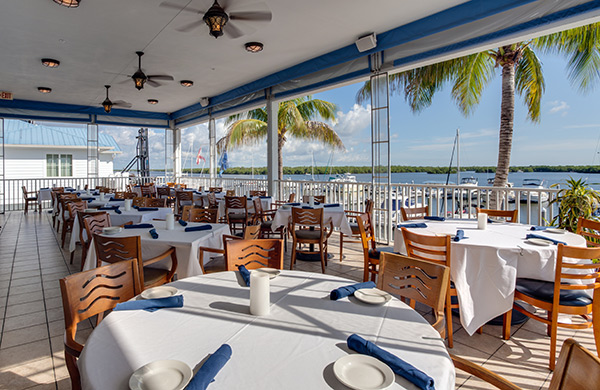 When you're spending time on Fort Myers Beach, it's a must that you enjoy some lunches and dinners with a beautiful view and overlooking the water. There are plenty of waterfront restaurants on Fort Myers Beach to experience no matter what your budget is and when you're looking out onto the back bay or the Gulf waters, you're sure to have a smile on your face!
After over 10 years of living on Fort Myers Beach, I can safely say that I've enjoyed a meal and a drink in almost every restaurant or bar in the area. Depending on your preference, there are always a few favorites that you'll visit regularly but it's amazing what you'll find once you venture outside of your "go to" bars and restaurants. Let's take a look at some of our favorite Fort Myers Beach waterfront restaurants and a unique highlight of each.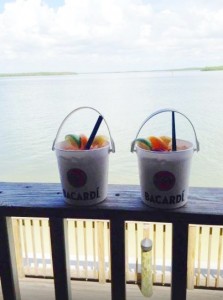 Located within Lovers Key Resort at the south end of Fort Myers Beach, Flippers is popular for its casual style, great food and fun atmosphere. Due to the fact that it's at the quiet end of the Fort Myers Beach and tucked away within a secluded resort, Flippers on the Bay could be considered a hidden gem. The staff are renowned for their friendliness and with a panoramic view of the back bay, you can enjoy a nice meal and some drinks as you watch the boats go by as they head out to the Gulf of Mexico under the bridge. If you're on a boat yourself, you can anchor up to the small beach area right in front of the restaurant. The outdoor but covered deck is small but that just helps to provide a really fun beach restaurant atmosphere where you might even make some new friends. Locals love Flippers so you know it's an awesome spot!
Flippers on the Bay Highlights: 
FMB Insider Brian: "If you're having a fun day on the boat or with friends on the beach, Flippers' famous "Bucket O' Fun" drink is a must. With several different rums mixed into this huge cup, the good times will be rolling for sure!"
FMB Insider Jennifer: "Don't miss the coconut shrimp appetizer! I try to expand my horizons each time I order, but I always end up making sure I at least start my meal with the coconut shrimp. It's just that good! I highly recommend it."