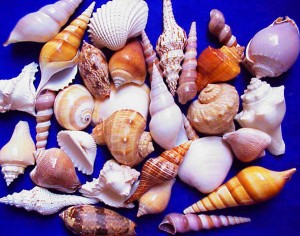 Spending your days shelling on Fort Myers Beach can result in a beautiful collection of beach treasures. They are a great reminder of your time at the beach, and can be used to create beautiful artwork that transports your memory to your days spent relaxing in the sand.
On Fort Myers Beach, you are allowed to collect shells and beach treasures as long as they are not alive, and do not contain a living organism. So once you find a collection of your favorite shells, and bring them home, you can create many things including necklaces, vase filler, picture frames and much more.
This information will teach you how to clean your shells and restore them to look their best.
**PLEASE NOTE: These instructions should NOT be used for cleaning Sand Dollars
Items you will need:
Shells
Water
Dish Soap
Bleach
Large Bowl
Sandpaper
Hard Bristle Toothbrush
Mineral Oil (Can be found at most drugstores)
Soft Cloth or Towel
Instructions to Clean your Beach Shell Collection
Rinse your shells in a large bowl with a little dish soap.  This should be a rough clean, just to remove any large pieces of dirt.
 From there, you can rinse your shells and then place them back in the large bowl, and soak them in a 5o-50 water and bleach solution.  This means is you used 3 cups of water, you will need 3 cups of bleach.  We recommend letting the shells soak in the solution anywhere from 2-6 days.
Once your shells have soaked for several days, the will loose a bit of their original sparkle, but not to worry, that will return.   At this point, remove the shells, give them a final water rinse, and allow them to dry completely.
Take the dry shells and use a piece of fine sandpaper to sand off any imperfections or deposits on the shells.  You can also lightly sand the entire shell, to rough it up a bit.
You can also use a toothbrush or wire brush to help to remove and stubborn deposits on the shells.
After you have sanded and cleaned your shells, you can place some mineral oil on a soft cloth, and apply the oil to the shell.  This will help to bring life back to the shell, and give it a beautiful look and sheen.
Finally, once your shells are cleaned and shined, they are ready to be displayed in a way that will help you to remember the relaxing memories you have of collecting them on our beautiful beaches!